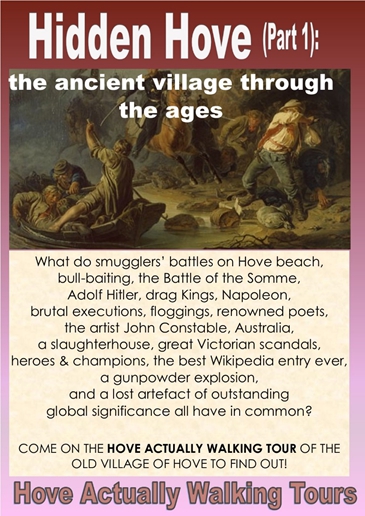 Hidden Hove: the ancient village through the ages
Sat Sep 28th 2019 at 10:30
---
Brighton
Brighton
https://www.myguidebrighton.com/events/hidden-hove-the-ancient-village-through-the-ages
BOOK NOW
Event Details
What is the Hidden Hove historical walking tour about?

Find out what smugglers' pitched battles on Hove beach, bull-baiting, the Battle of the Somme, Adolf Hitler, drag Kings, Napoleon, brutal executions, floggings, renowned poets, the artist John Constable, a slaughterhouse, great Victorian scandals, cock-fighting, a gunpowder explosion, heroes & champions, Horatio Nelson, Australia and a lost artefact of outstanding global significance all have in common?

'COME ON A HOVE ACTUALLY WALKING TOUR TO FIND OUT!'
Come on the Hove Actually Walking Tour of 'the Old Village of Hove to find out!

Where does the tour start?

This guided historical walking tour starts on the seafront promenade opposite 'Morocco's' (8 Kings Esplanade, Hove, BN3 2WA).
It is a gentle walk on the flat which winds its way around the seafront and up Hove Street. For approximately 2 hours, for a mile or so ending up at the old parish church of St Andrew's on Church Road (BN3 2AD).

Booking is essential — email: hoveactuallywalks@gmail.com to reserve a place.

What do customers say about the Hidden Hove historical tour?
'Great walking tour this afternoon. As a local there were so many 'Ooh I never knew thats....' crammed into 90 minutes. Rachel is an engaging story teller'.

'Rachel was a brilliant tour guide and was so informative and enthusiastic. I learnt so much about the area in which I have lived in for many years'.

'Really enjoyed this walking tour - well worth it. So much information - can't believe it really! '

" Rachel vividly brings to life Hove and it's many colourful characters".

"Meticulously researched, full of interest and presented by a charming guide. Rachel has encouraged me to look anew at what surrounds me, she brought the local streets alive with her knowledge. All very impressive and I would encourage everyone to join her in the future"