Lewes
Lewes - Local Guide
Our Lewes local guide provides you everything you need to know when you visit Lewes. Discover the best things to do, top activities, events and attractions.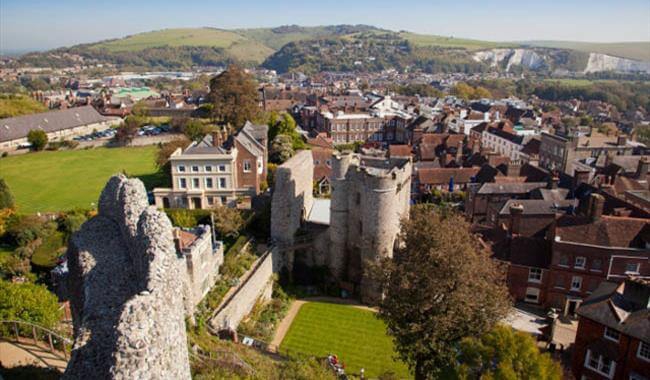 Photo: Lewes Town, photo credit: © visitsoutengland.com

Where is Lewes?
Lewes is the county town of East Sussex, situated in the heart of rural Sussex close to beautiful South Downs. The town is surrounded by small towns and villages such as Plumpton, Cooksbridge, Hamsey, Offham, Ringmer, South Mailing and Ilford.
How to get to Lewes?
By car
You can get to Lewes by car from Brighton via A27 and A23 or via Ditchling Road and A27 and it takes less than 30 minutes to drive.
Routes from different locations:
· From London, the best-connected roads are M23 and A23 or via M25.
· From Heathrow Airport via M25 or M25 and A21.
· From Gatwick Airport via A23.
· From Stansted Airport via M25 or M25 and A23.
· From Newhaven via Piddinghoe Road or C7.
· From Haywards Heath via A272 and A275.
Trains to Lewes
Lewes has got very good train connections from Brighton and London. The table below shows direct trains to Lewes.
| | | |
| --- | --- | --- |
| Destination | Time | Frequency |
| Brighton | 14-17 minutes | Every 15-20 minutes |
| London Victoria | 65 minutes | Every 30 minutes |
| East Croydon | 50 minutes | Every 30 minutes |
| Chichester | 75 minutes | Every 30 minutes |
| Eastbourne | 20 minutes | Every 15-20 minutes |
| Haywards Heath | 16-20 minutes | Every 30 minutes |
By Bus
There are frequent bus connections from all Sussex location to Lewes.
Living in Lewes
Lewes town is a perfect blend of old and new, with lots of trendy shops, quirky bars and old-fashioned bookstores and boutiques. The town is attracting many young buyers from London who rent before they buy.
Things to do in Lewes
The town has many things to do for all the family. From concerts and festival to exploring castles, museums, art galleries and the farmers' market. Lewes is famous for its bonfire celebration, organised every year on the 5 November.
Art & Culture
Lewes is heaven for cultures vultures offering comedy clubs, art gallery, film club and annual arts festivals.
Most popular art galleries in Lewes
St 'Anne's Galleries
features some of the most fascinating and talented artists from the South and attracting national and international collectors.
Chalk Gallery
showcases featured artists and re-hanging of approximately 80 works every six weeks.
'Martrys' Gallery
is a visual gallery showing contemporary art and work of under-explored 20th-century artists.
Paddock Art Studios
are located in beautiful old timbered buildings with a stunning garden behind. There are regular events, weekly classes and weekend workshops.
Shopping
Lewes has many independent and unique shops offering wide high-quality throughout the town. Some of the most famous ones are:
Lewes Farmers Market
is an award-winning, one of the most vibrant and successful Farmers Markets in Sussex.
Kings Framers
a picture framing and a gift shop in the centre of Lewes.
The Laurels is
a contemporary lifestyle gallery and boutique.
The Sussex Guild Shop
is the permanent home for the makers and artists of Sussex Guild.
Bow Windows Book Shop
offers excellent books and maps since 1964.
Pastorale Antique Warehouse
has many unusual, exotic, vintage and occasionally modern antiques from the UK and Europe.
Attractions
Lewes has many historic and fascinating attractions: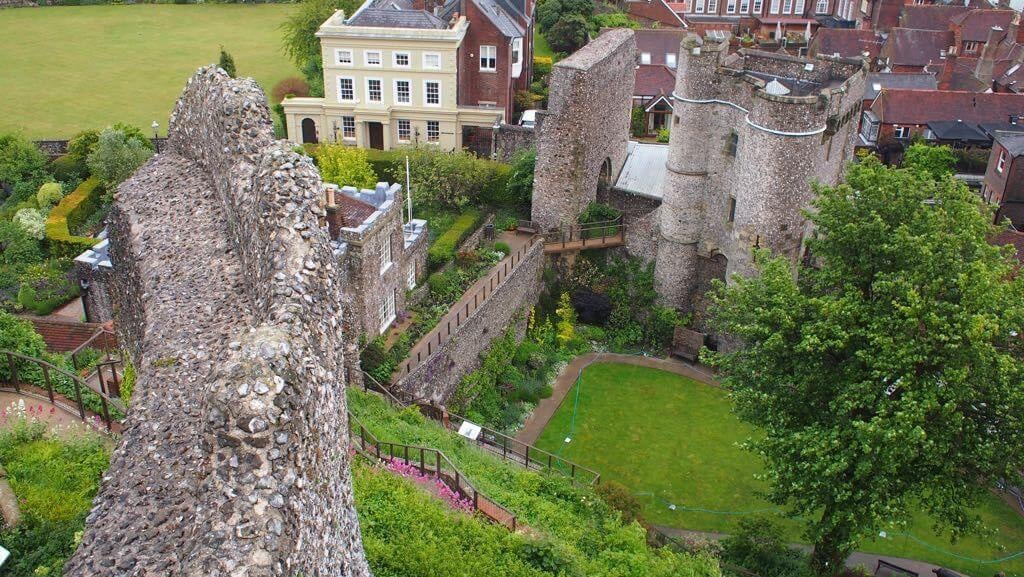 Photo: Lewes Castle, photo credit: © exploring-castles.com
Lewes Castle and Barbican House Museum
located high above the medieval streets. The castle is nearly 1,000 years old, offering fantastic views of the medieval streets below. Guided prices start from £8.20 for an adult and £4.50 for a child.
Chailey Common
is a Nature Reserve stretching over 180 hectares. You will find here an impressive variety of birds, an abundance of heather, cattle and grazing ponies.
Pells Pool
is the oldest freshwater outdoor public swimming pool. Price per ticket starts from £4.50 for an adult and £2.20 for a child.
Lewes Depot
is an award-winning independent 3-screen cinema and café-restaurant. The venue offers an art house, independent films, world cinema, documentaries, classic films, special events with guest speakers and workshops. It has a high specification seating with Dolby Atmos, 2k and 4k projection technology and 7.1 sound.
Charleston Farmhouse
is the Bloomsbury Home of Art & Ideas. 'It's a liberating experience with the new ideas for living and belief that arts and freedom of expression are fundamental.

Events in Lewes
Lewes hosts many events throughout the year. There are many art shows, concerts, festivals and celebrations. Some of the most famous events in Lewes are:
Art Wave
is an annual festival in Lewes, showcasing work of local artists from Lewes, Seaford, Newhaven and surrounding to over 150 venues. From 17 August till 1 September.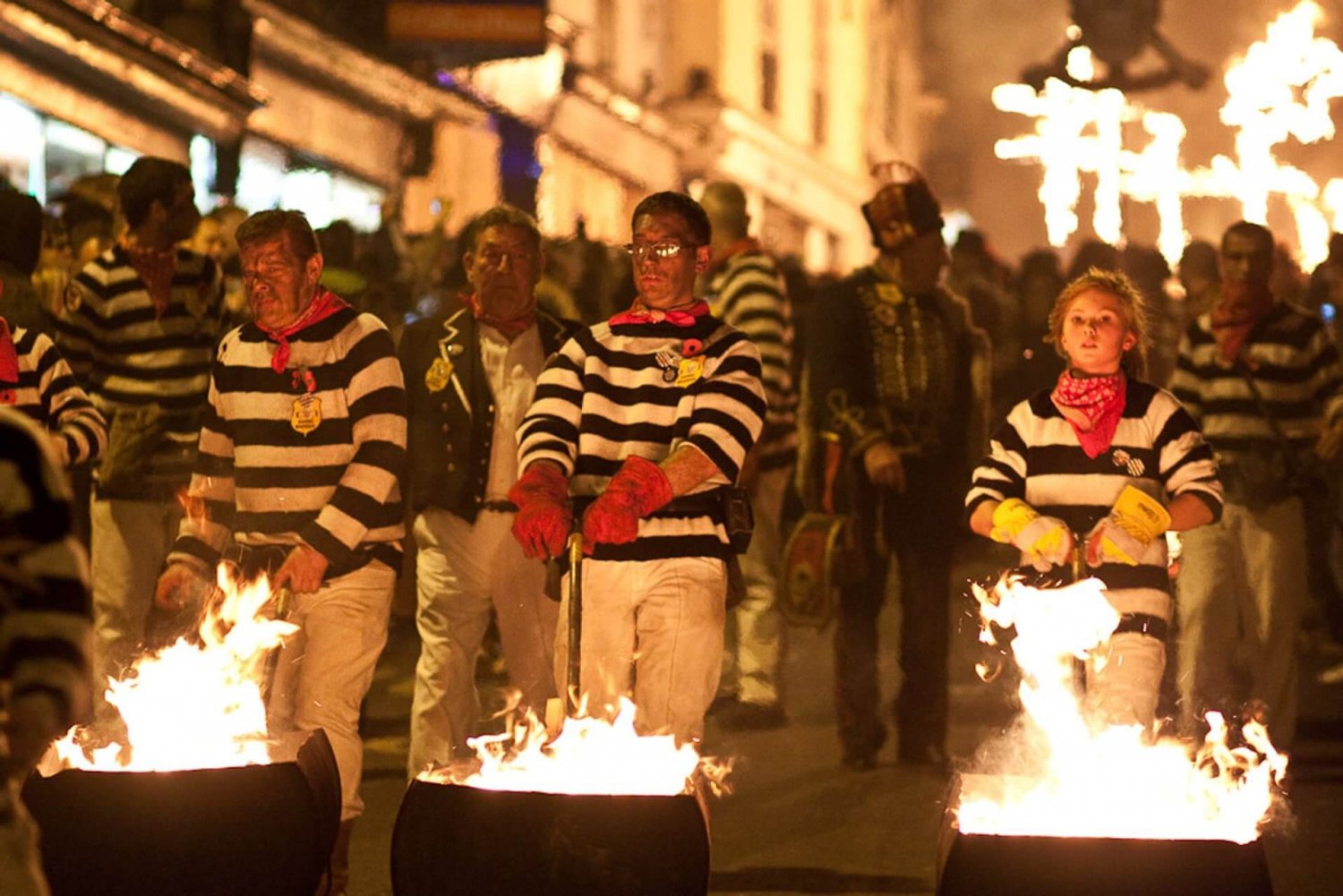 Photo: Lewes bonfire nigh, photo credit: © rove.me
Lewes Bonfire Night Celebration
is the biggest celebrated 5 November event in the world. 'It's a celebration the fall of Guy Fawkes, the failure of the Gunpowder Plot and remembering the Seventeen Martyrs burnt near the Lewes War Memorial. There will be around 25-30 visiting bonfire societies from all over Sussex and numerous marching bands.
Vegan Festival
is a free event, organised just after World Vegan Day. The event seeks to inspire and promote the benefits of the vegan lifestyle. It features recognised speakers, informative exhibitors, samples of delicious food, vegan health and beauty products, accessories and clothing.
Where to dine in Lewes
Here is our selection of the best restaurants in Lewes:
· The Cock Inn – the best local cuisine
· Shanaz – Indian cuisine
· Erawan Thai Bistro & Take Away – Thai cuisine
· The Pelham Arms – best Sunday Roast
· Bill's Lewes Restaurant – best burgers
· Limetree Kitchen – finest signature style of cuisine
History of Lewes
Lewes town was named by Saxons, who built a castle moat as a defensive point over the river. The town was given to 1st Earl of Surrey as a reward for conquering the Norman Invasion. The 1st Earl of Surrey built the Lewes castle on the Saxon plot. In 1264 during the Second 'Baron's War, the town was the site of the Battle of Lewes between the forces of Simon de Montfort and Henry III.
During the Marian prosecution between 1555-1557, 17 Protestant martyrs were executed. These martyrs deaths play a significant part in 'Lewes' history and are remembered by the Bonfire Societies as part of 'Lewes' annual Bonfire Night celebration.
In the 15th century, Henry III divorced Anne of Cleves, and she gained the Lewes Castle in the divorce settlement.

Famous people born in Lewes
Lots of famous people were born in Lewes, such as actors, musicians, writers and many more such as:
· Arthur Brown – musician, best known for his hit in 1968 "Fire"
· Hugh Harris – guitarist with The Kooks
· David Ford – singer and songwriter
· Ed Harcourt – singer and songwriter
· Arthur M. Jolly - writer
Some of the famous actors and actresses born in Lewes are Marina Baker, Ralph Brown, Mark Williams, Julia Foster and Sarah Gordy.
Schools in Lewes
Some of the top primary and secondary schools in Lewes rated highly by Ofsted:
Primary Schools
· Barcombe Church of England
· High Cliff Academy
· Newick Church of England
· Wivelsfield Primary School
· Western Road Community
· St Pancras Catholic
· Southove CofE
· South Malling CofE
Secondary Schools
· Chailey Heritage School
· Cuckmere House School
· Seaford Head School
· Bowden House School
Surrounding areas
A short drive from Lewes you can find beautiful countryside which is located close to South Down National Park. It's perfect for outdoor activities and walking tours.
Explore Sussex countryside by Bluebell Railway, a preserved country steam line. The locomotive runs from Sheffield Park to East Grinstead. Many various events are organised during the year including ''A day out with Thomas''.
Drive, walk or ride to Ditchling Beacon the highest points in East Sussex, and you will see the fascinating view of South Downs. Once you are in Ditchling Beacon, you can explore the countryside via the walking routes, even walk to 'Devil's Dyke.
Nearby Drusillas Park, best known as the small zoo in Europe is less than 10 miles from Lewes.
If you would like to find out more information about Lewes, see our
Local News & Articles.
Featured photo: Lewes, photo credit: © thetimes.co.uk