Sandy Beaches in Sussex
If you're looking for a sandy beach in Sussex, this guide will help you find the best sandy beach for you. Sussex Coast has many fascinating shingle beaches, but there are only a few covered by sand.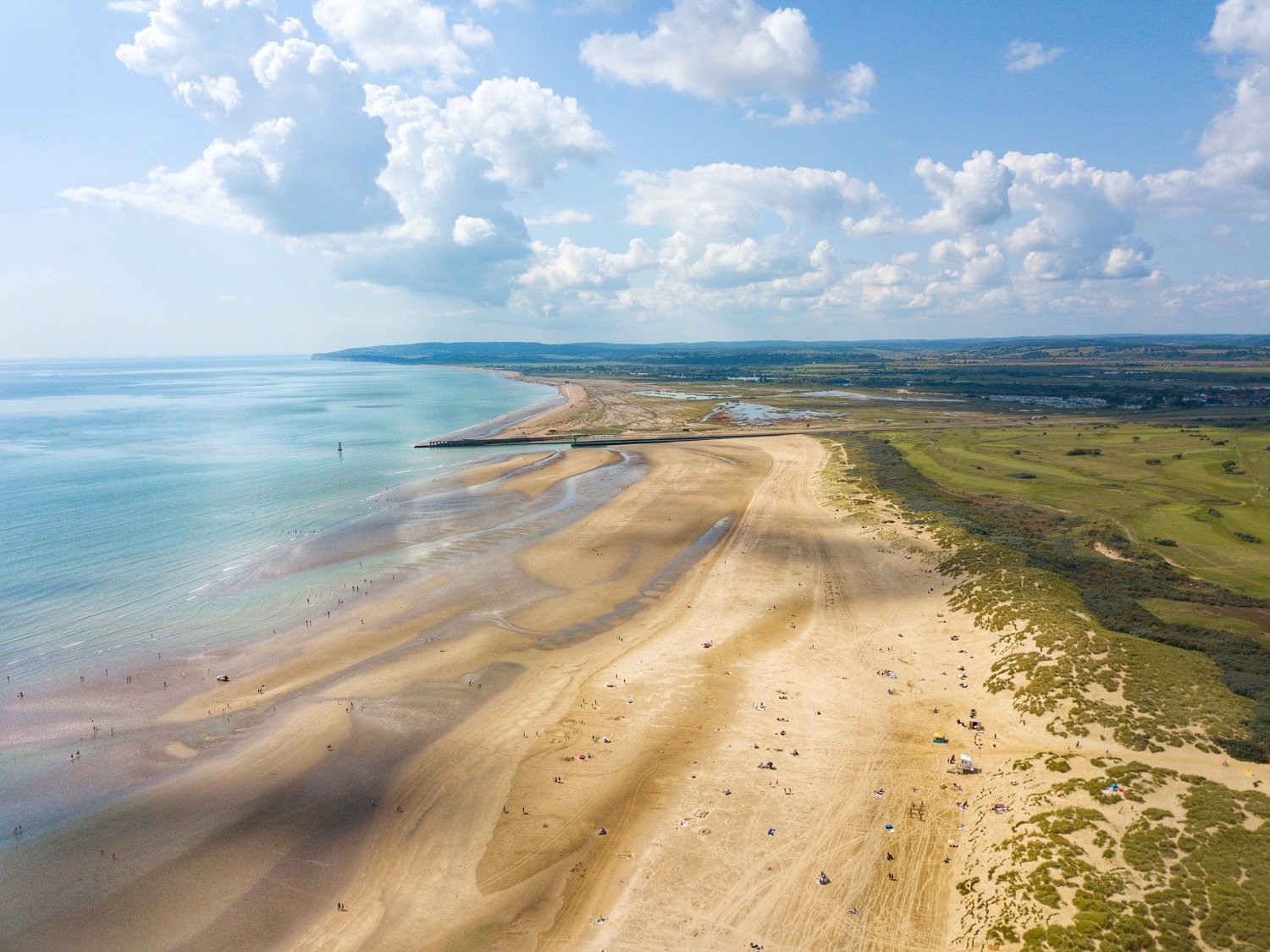 Photo: Camber Sands

Camber Sands
Camber Sands Beach is covered with the finest gold sand. The best part of the beach is the western side, close to the River Rother. It's long nearly 5 miles east of the village. The beach is famous for windsurfing, kite-surfing and other watersports. Camber Sands remains mostly unspoilt; it's a perfect relaxation place. The nearest town is Rye; the postcode is TN31 7RT. It takes around 1 hour 30m minutes from Brighton by car via A27. If you're travelling from London, it will take approximately 2 hours by car you need to drive via A2 and M20.
The beach has a lifeguard. Close to the beach you'll find a few cafés & restaurants with a variety of options:
• Kit Kat Café - traditional seaside food
• Coastal Café in Camber – famous for full English breakfast
• Dunes Bar & Restaurant – British cuisine
• The Devil in Rye – Fine dining Indian style
• Rye Bay Bar & Grill – British Cuisine
• The Owl – a pub
• The Gallivant – fine dining British cuisine
• Pelican Fish Bar – traditional fish & chips
• Knoops Café – delicious hot chocolate and milkshakes
• Avocet Tea Room – delicious cakes & teas
• The Fig - local cuisine with vegetarian and vegan options
Dog are allowed to come to the beach between May and September, but must be kept on a lead and are restricted between Zones F & H.
Broomhill Sands
Broomhill Sands is the lesser-known beach with the sand dunes. The beach is ideal for activities such as paddle boarding and kite surfing. You can hire equipment and water sport lessons from the local Kitesurf Centre. Broomhill is one of the best beaches around, but it doesn't have any facilities and a lifeguard service. The postcode is TN31 7SD, and it's located just east of Camber Sands.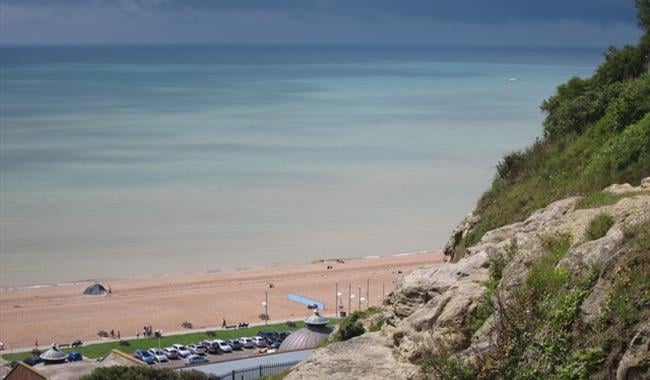 Photo: Pelham Beach, photo credit: © Oast House Archive

Pelham Beach
Pelham Beach in Hastings has some sand, especially at low tide, but for the most part, is made up of pebbles. The award-winning beach is perfect for sea bathing offering lifeguard between May and September. It has many cafes, restaurants and attractions; it's great fun for the whole family. You can hire deck chairs in season between May and September. The postcode is TN34 1PF. The journey by car takes around 1 hour from Brighton via A27 and A259. If you're driving from London, you can get here via A21, and the journey takes about 2 hours and 15 minutes.
Some of the most popular restaurants near Pelham Beach are:
• Di Polas – famous for best ice creams
• Taylor's Seafood Restaurant
• Rainbow Restaurant – British cuisine, vegetarian-friendly
• Beach Retreat – Fish & Chips
• Boulevard Bookshop and Thai Café
• Albion Hastings – famous for great pies
• White's Seafood & Steak Bar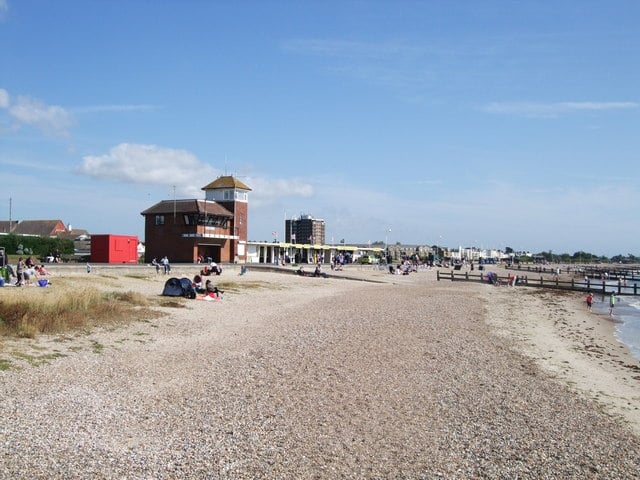 Photo: East Beach, Littlehampton, photo credit: © Paul Gillett

East Beach Littlehampton
East Beach, Littlehampton is an award-winning and the most family-friendly beach. It has a sandy beach, a promenade and large picnic greens. It's the safest beach in West Sussex, and lifeguards patrol it in summer. Enjoy a harbour boat trip, waterside amusements at nearby Harbour or free-to-use BBQ on the fresh air. The whole family can play at Pirates at the Buccaneer Bay Adventure Golf Park in Norfolk Gardens. Children would enjoy Lion's Den Play Park. The postcode is BN17 5LG. It takes 55 minutes journey by car from Brighton and approximately 2 hours and 15 minutes from central London via A24.
Some of the most popular restaurants near East Beach, Littlehampton are:
• Toast – famous for the best brunch, vegetarian, vegan and gluten-free options are available
• Vardar Restaurant – Mediterranean & British cuisine
• Putting Green Café – European & British cuisine
• The Fish Factory – seafood restaurant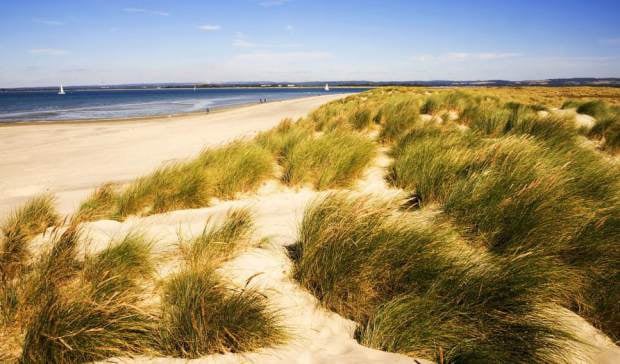 Photo: West Wittering Beach, photo credit: © David Martyn Hughes

West Wittering
West Wittering sandy beach has been a favourite family beach for many generations. It's a premier Blue Flag beach with amazing views of Chichester Harbour and the South Downs. The beach is famous for a picnic, wind and kite surfing. The area is internationally recognised for its wildlife, birds and unique beauty. The postcode is PO20 8AJ; the closest town is Chichester. The journey from Brighton takes over an hour via A27 and from central London around 2 hours via A3.
Some of the most popular restaurants near West Wittering beach are:
• Drifters – British cuisine
• Drift-In Surf Café – British cuisine
• The Old House at Home – pub
• The Landing – British cuisine
If you would like to find out more information about beaches around Brighton and Sussex, follow our regular post via our social channels, Facebook, Twitter and Instagram.