Worthing
Local Guide to Worthing
Our Worthing local guide provides everything you need to know when you visit Worthing. Discover the best things to do, top activities, events and attractions.

Where is Worthing?
Worthing is the largest coastal town in West Sussex, with a population of around 100,000. The city is situated close to the sea between Goring-by-Sea and Lancing. It's just 20 minutes from Brighton by train and 90 minutes by train from London Victoria station. The town is well connected by road and public transport to the surrounding areas, such as Brighton, Chichester and Portsmouth. Worthing means "place of people".

How to get to Worthing

By car
If you're travelling by car from Brighton to Worthing, there are three possible routes that you can take:
Via A27, which is 23.1 km distance and takes around 30 minutes
Via A259, which is 17.5 km distance and takes more than 30 minutes
Via A259, then when you're on Wellington Road, you need to turn right onto Church Road, where you get redirected to the A27. The distance is 20.2 km, and it takes less than 30 minutes to drive.
If you're travelling from London or Surrey, you can get to Worthing via the A24, or via the M23 and A23. If you are going from the western part of London, you might prefer the M25 and then the A24. From Kent, you can get to Worthing via the A26 and A27, or via the A264 and A23. From western locations such as Portsmouth or Chichester, the fastest route to Worthing is via the A27.

Trains to Worthing
| Destination | Time | Frequency |
| --- | --- | --- |
| London Victoria | 1 Hour 25 Minutes | Every 35 Minutes |
| Gatwick Airport | 51 Minutes | Every 30 Minutes |
| London Bridge | 1 Hour 29 Minutes | Every 30 Minutes |
| Brighton | 25 Minutes | Every 10 Minutes |
| Clapham Junction | 1 Hour 16 Minutes | Every 30 Minutes |
| East Croydon | 1 Hour 6 Minutes | Every 30 Minutes |
| Three Bridges | 53 Minutes | Every 30 Minutes |
| Haywards Heath | 30 Minutes | Every 30 Minutes |
| Eastbourne | 1 Hour 15 Minutes | Every 10 - 20 Minutes |
| Shoreham-by-Sea | 10 Minutes | Every 30 Minutes |
| Portslade | 15 -18 Minutes | Every 10 Minutes |
| Hove | 15 - 23 Minutes | Every 10 Minutes |
By Bus
A few bus companies operate in and around Worthing, such as:
Stagecoach and Compass operate in Lancing and Sompting.
Brighton & Hove Bus Company, Stagecoach and Compass serve Shoreham-by-Sea and Southwick.
Stagecoach, Compass, Brighton & Hove Bus (night buses only) and Metrobus run in Worthing.

Worthing Beaches
East Pier Beach – located on the eastern side of Worthing Pier. It's a five-mile stretch of shingle beach. It's used for fishing, bathing, sailing and windsurfing.
Worthing Beach – situated between Lancing and Ferring in the west. It's a shingle beach with sand visible during a low tide and rock pools. In 2018, Worthing Beach was recognised by Keep Britain Tidy as one of the best in the country.
South Lancing Beach – is a shingle beach between Shoreham-by-Sea and Worthing. It's popular with sailing enthusiasts, windsurfers, kite-surfers and dog walkers. Pastel coloured beach huts are located at the back of the beach. The beach has different zones for water sport enthusiasts and bathers. Lancing Beach Green is behind the beach, which has a children's play area and a new BMX & skate park.

Living in Worthing
Worthing is an ideal place for families who enjoy walking, being close to the sea and enjoying fresh seafood. The house prices are more affordable than in Brighton, and the beaches are beautiful as well. It's a small town with everything close by and schools for children are accessible without a car. The average price of a terraced house in Worthing is just £290,000. The rising prices in Brighton & Hove are pushing residents to Worthing, where they can get much more for their money and still enjoy the seaside.
Lots of entrepreneurial small businesses and independent retailers are creating an exciting buzz in the town. "It's an exciting time to be living on the coast in West Sussex, with so many new developments and things happening," Caroline Wood, director of the Coastal West Sussex Partnership says.

Things to do in Worthing

Art & Culture
The Dome Cinema is a place for entertainment and culture. It shows all the blockbuster hits and has a vibrant bar, which is ideal for drinks before or after the film.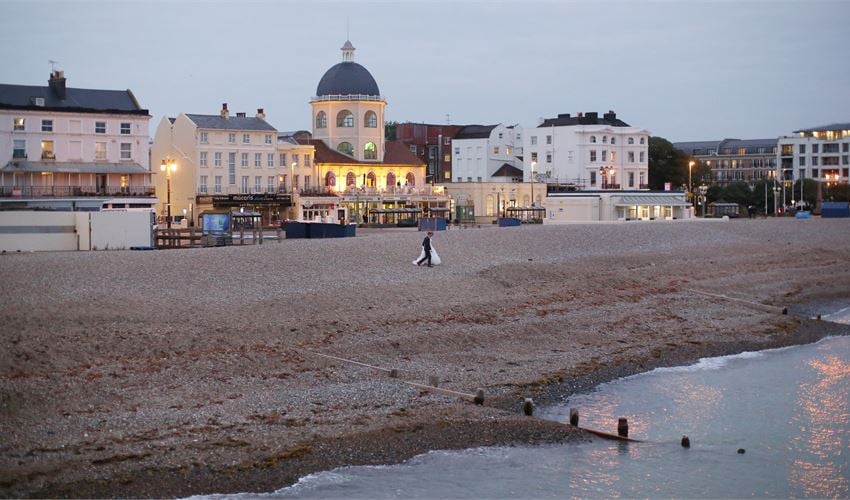 Worthing Dome image sourced from hitched.co.uk/
The Forge Gallery is an independently owned art gallery and contemporary glass studio. Local artists create stunning art pieces such as fine jewellery, ceramics, modern textiles, metal works, and blown and fused glass. Visitors can also book a one-day glass course.
Colonnade House is where artists, designers, makers and innovators connect and network in Worthing. It's a unique creative workspace. The Gallery and Studio are available for private hire.
If you love art with a coastal theme, you should visit Art on the Pier – free and open daily, the East Beach Artist Studios – for bespoke arts and crafts unique to the Sussex Coast, and Inspired by the Sea – locally made arts with a coastal influence.

Shopping
From specialist outlets, vintage shops, quirky and independent shops to high-street stores and specialist outlets, Worthing has lots of to offer. All shops are within an easy walking distance. The best places to find the independent shops in Worthing are Warwick Street, Portland and Rowlands Roads.

Attractions
Castle Goringwas intended to be inhabited by the favourite English poet P.B. Shelley, but it was taken over by his wife, Mary Shelley. Mary wrote the famous gothic novel, Frankenstein. She sold the castle in 1845. Afterwards, the castle was used as a language school. Nowadays the castle is used for weddings and a wide variety of events, including big band music nights, afternoon tea and clubs.
Highdown Vineyard is an award-winning vineyard, located between Littlehampton and Worthing. It's a unique and beautiful venue for parties, corporate events and weddings. Group tasting and tours can be organised as well.

Outdoor activities
Splash Point Mini Golf is a fantastic family-fun activity by the seaside, with the secret tunnels, a loop-the-loop and windmill obstacles.
Brooklands Go Kart and Mini moto club is an outdoor track designed for both adult and junior drivers. It's the perfect place for birthday parties, stag or hen dos or family fun days. The track is available for beginners and advanced racers as well.
Worthing Sand Courts organise regular volleyball, footvolley and beach tennis sessions. Coached sessions are available as well.

Events in Worthing
Worthing has many events throughout the year. There are lots of comedy shows, concerts and theatre shows organised in Assembly Hall, Connaught Theatre and the Pavilion Theatre. Some of the most famous events are Worthing Wow – best-spoken word night, Walk for Worthing, Worthing Rotary Carnival and Procession, Worthing Light Festival and CAMRA Worthing Beer Festival.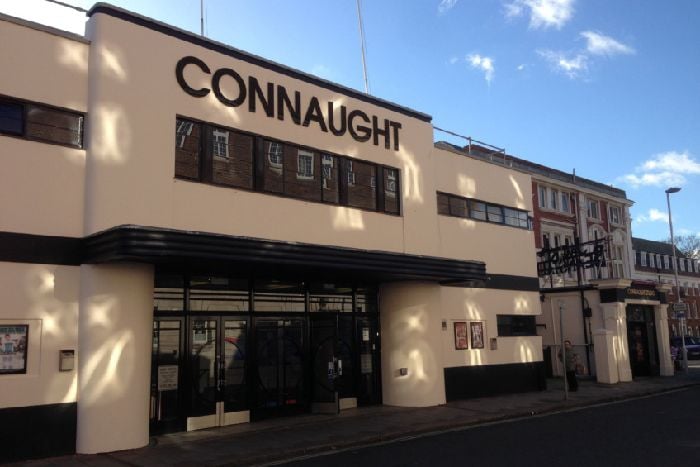 The Connaught Theatre in Worthing image sourced from worthingherald.co.uk/

Where to dine in Worthing
Here's the selection of our favourite restaurants in Worthing:
Salsa Viva Cantina – Mexican
Sylvan Oak – British
The Fish Factory – Seafood
Thai Street Food – Thai
Imperial China – Chinese
Shafiques - Indian

History of Worthing
Worthing started as a Saxon village called Worth or Wurtha ingas. It was just a hamlet where farmers used to live, until the 18thcentury, when people began to believe that bathing in seawater could cure many diseases. During this period many new seaside resorts grew up, including Bognor Regis and Brighton. In 1978, Princess Amelia came to Worthing, following the rest of the royal family and other wealthy people.
The first theatre was built in 1807, a Town Hall was built in 1835, and in 1845 the railway reached Worthing. Then the hospital, gas and piped water supply opened. In 1890, Worthing was made a borough and had a population of around 16,000.
In 1901, Worthing got an electricity supply and then a museum and art gallery. In the early 20thcentury, Worthing was a famous seaside town, and the population was steadily growing. In 1930, the town had around 60,000 citizens. In the late 20thcentury, Worthing had opened Worthing Lido, the Guildbourne Centre and the library. Nowadays the town has 104,000 citizens.

Famous People
Lots of famous people were born in Worthing, including authors, TV producers, actors, footballers, politicians and musicians.
The most famous authors were Vivien Alcock – who used to write children's books, Maureen Duffy - a Poet and Novelist, and Douglas Hyde – a prominent critic of communism. The famous TV producer Britt Allcroft, best known for producing Thomas the Tank Engine and Friends, was born here. Professional footballers born in Worthing include Conor Chaplin, who plays for Coventry City, Mickey Demetriou, who plays as a defender for Newport County, David Christopher McGhee, a retired footballer who played for Brentford and Leyton Orient, and Eric George Parsons, who was a footballer for West Ham United, Chelsea and Brentford.
Some of the most famous actors include Gwendoline Christie, who is best known for her role as Brienne of Tarth in the Game of Thrones series, and Jonathan James Cake, who is famous for ABC drama series Desperate Housewives. Reginald Marsh was best remembered for his role as Dave Smith in Coronation Street. Nicollette Sheridan is an English-American actress best known for Alexis Carrington in soap opera Dynasty.
The Conservative Party politician Greg Barker and the musician Mickey Jupp (who had recording deals with Bell Records, Vertigo and Stiff) were born in Worthing.

Schools in Worthing
Here a few top primary and secondary schools in Worthing rated highly by Ofsted:

Primary schools
The Towers – primary and secondary
Manor Sports Ground – sports and leisure primary school
Broadwater C of E Primary School
Elm Grove Primary School
English Martyrs Catholic Primary School
Secondary schools
Worthing High School
Davison Church of England High School for Girls
Worthing College
Durrington High School
Private schools
There are two independent schools in Worthing with excellent reputations.
Our Lady of Sion School
Lancing College Preparatory
If you would like to read more information about Worthing, you can find it in our Local News & Articles.
*Worthing Pier image sourced from theargus.co.uk/