Hastings
Hastings Local Guide
Our Hastings local guide provides everything you need to know when you visit or would like to move to Hastings. Discover the best things to do, top activities, events and attractions.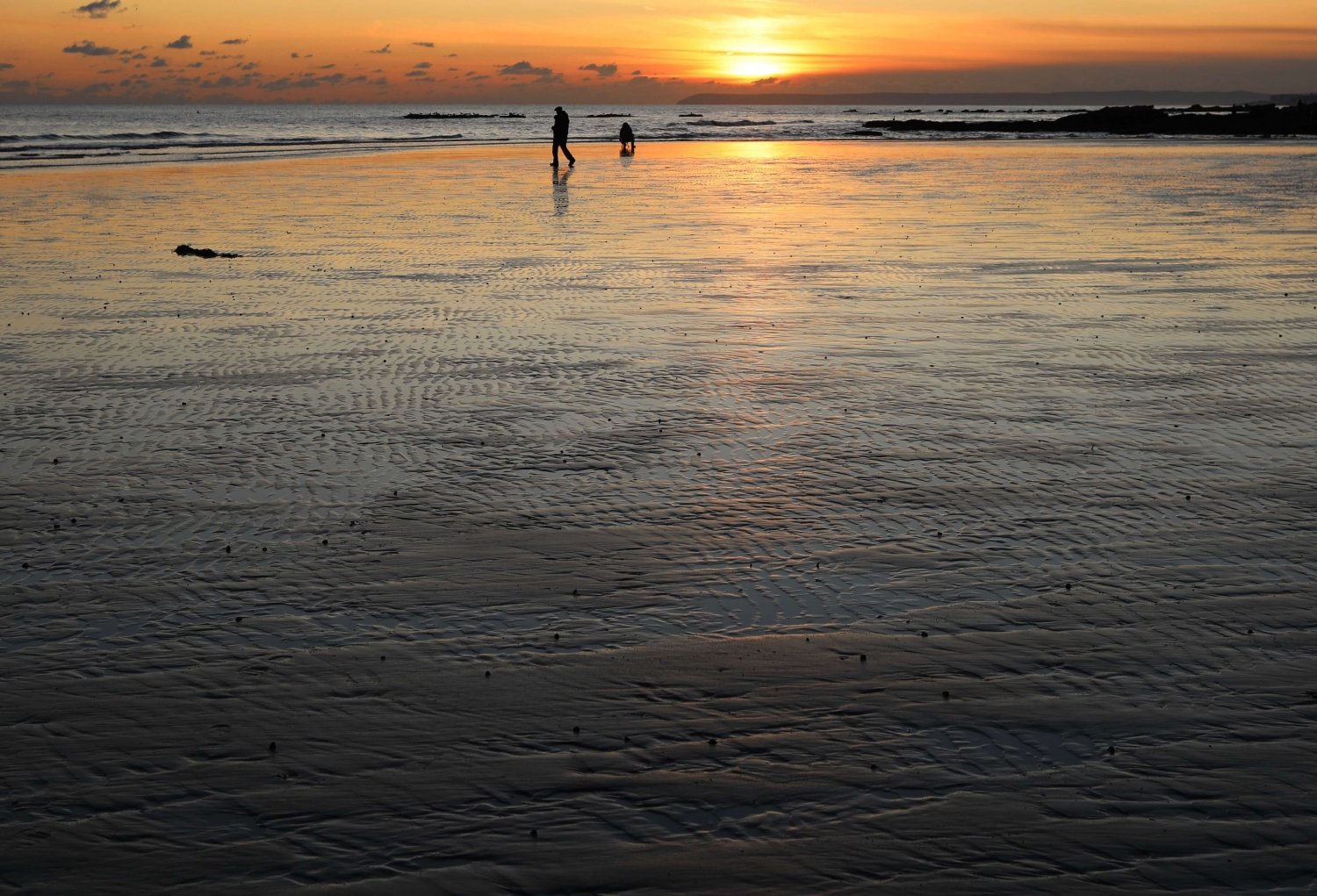 Where is Hastings?
Hastings is a beautiful English seaside town overlooking the English Channel. It's located in East Sussex, 24 miles east from

Lewes

and 53 miles south-east from London. The town is famous for its association with the Battle of Hastings of 1066. Today, Hastings is a popular seaside destination with lots of attractions and a fishing port.
How to get to Hastings
By car
The distance between Brighton and Hastings is 36.3 miles via A27 and A259, and it takes more than an hour of driving.
Routes from Hastings from different locations:
From Gatwick Airport via A23 and A27, takes around 1 hour 30 minutes.

From Heathrow Airport via M25 and A21, takes around 2 hours.

From Luton Airport via M25 and A21, takes around 2 hours and 30 minutes.

From London City Airport via A21, takes around 2 hours.
Trains to Hastings
| | | |
| --- | --- | --- |
| Destination | Time | Frequency |
| Lewes | 1 hour | Every 15-20 minutes |
| Brighton | 1 hour 20 minutes | Every 30 minutes |
| London Bridge | 1 hour 30 minutes | Every 20 - 30 minutes |
| East Croydon | 1 hour 50 minutes | Every hour |
| London Victoria | 2 hours 10 minutes | Every hour |
By bus
From Brighton & Hove, National Express buses operate.

From Eastbourne, Stagecoach bus services operate.
Hastings Beaches
Hastings Beach

is the main beach situated right on the seafront which is predominantly a shingle beach. However, there is some expanse of sand perfect for beach games and for building sandcastles. The beach has café, restaurant and dog-friendly zones.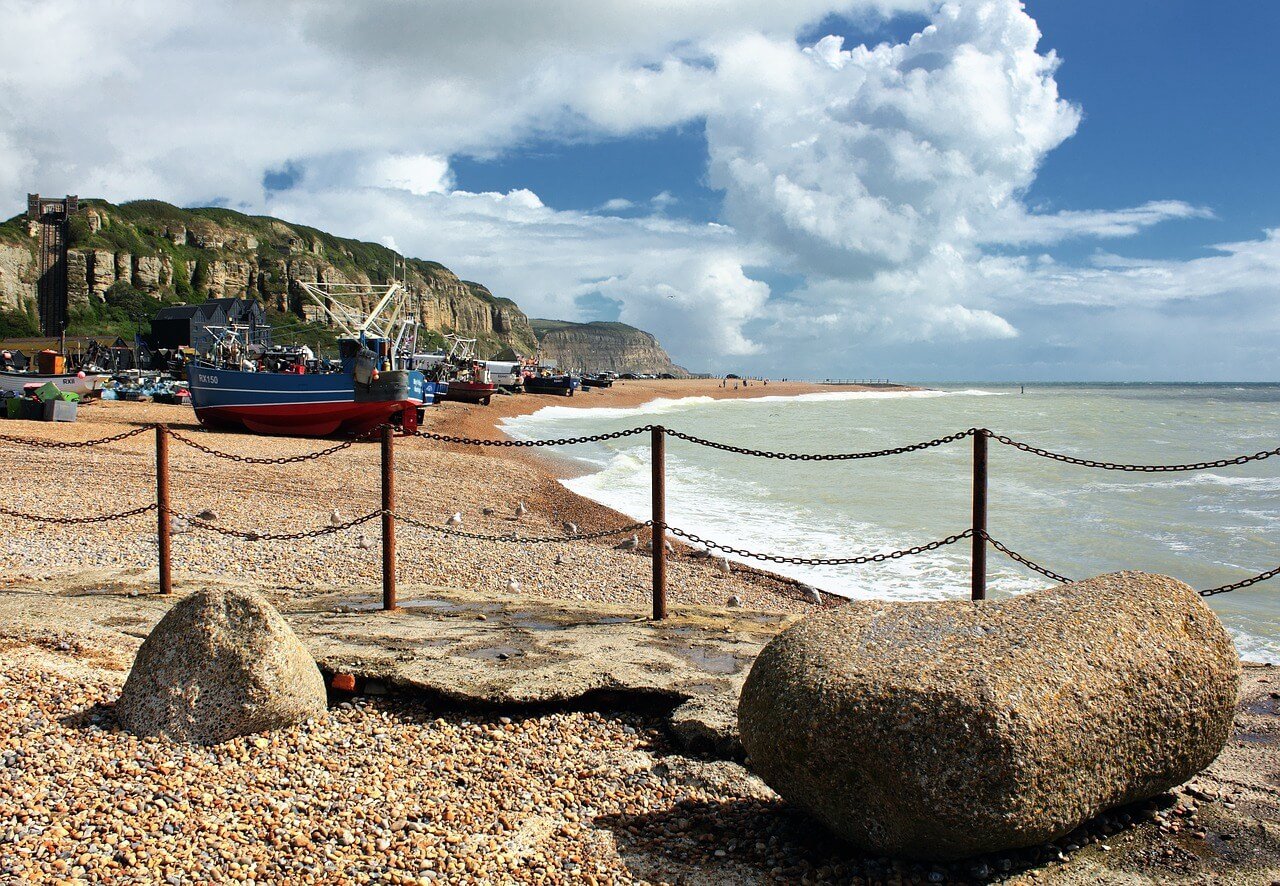 Photo: Hastings Beach, photo credit: © pixabay.com
St. Leonards Beach

is a famous shingle beach located on the west side of Hastings. A promenade backs the beach, and there are some shops and cafes close by.

Bulverhythe Beach

is a shingle beach popular for water sports and swimming with a plenty of beach huts for hire. This beach has a lifeguard during the summer, and dog-friendly zones are available as well.

Fairlight Glen Beach

is situated a mile from Hastings, overlooking Covehurst Bay. Naturist and non-naturist visitors favour it.
Living in Hastings
The old town in Hastings is a stretch of beautiful townhouses, cottages and passageways. You would feel like you're in Diagon Alley in the Harry Potter films. The town has many independent shops, cafes, bars and alfresco restaurants. Lots of creative people, artists and authors live in this area.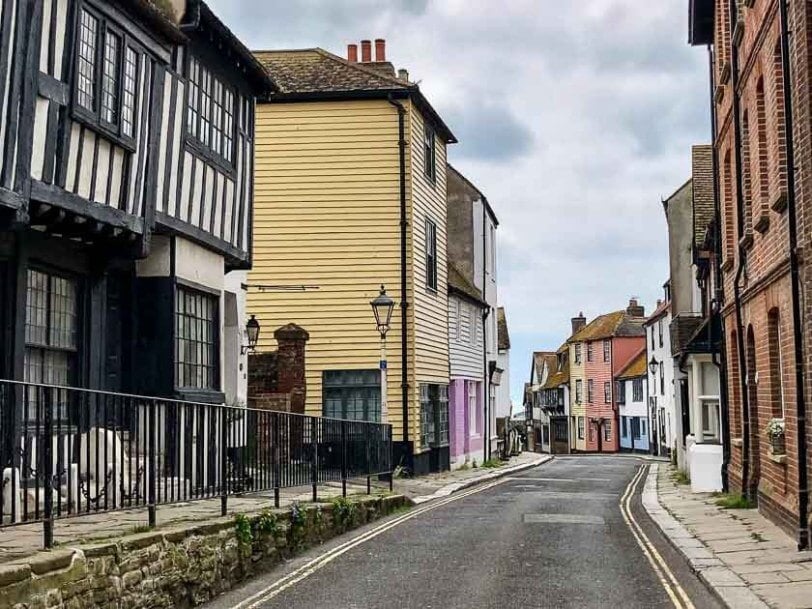 Photo: Old Town Hastings, photo credit: © sussexbloggers.com

Things to do in Hastings
The town has many attractions for all ages from festivals and shows to explore the castle, museums, art galleries, nature reserves and parks. There is always something going on during the summer; including Wine and Seafood Festival, Jack and Green.
Art & Culture
Hastings has a very busy arts & culture scene, offering vibrant galleries and museums.
Hastings Contemporary Gallery
hosts many best international and British contemporary art through the year. The gallery is located on the seafront next to the historic fishing beach in the Old Town.
Museum and Art Gallery
offers a diverse collection of 97,000 objects of local history, decorative and fine arts and natural sciences. Many exhibitions and events are running through the year.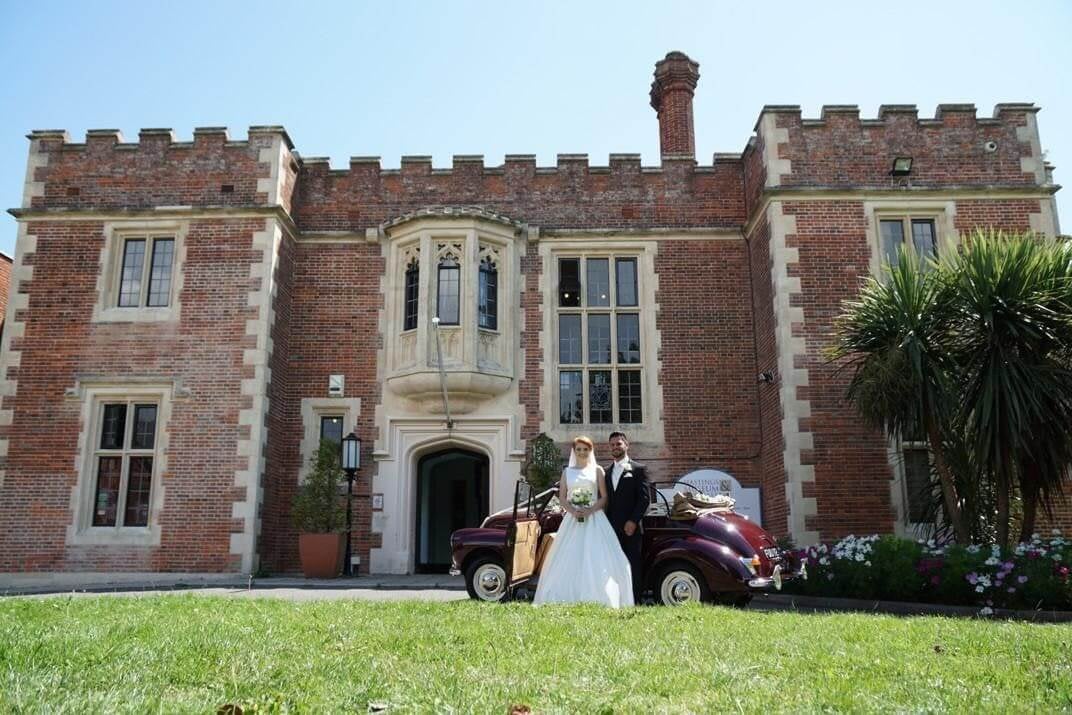 Photo: Hastings Museum & Art Gallery, photo credit: © allevents.in




Smugglers Adventure

is a museum showing the rise and fall of smuggling in the underground caverns. It's an experience to remember as you will go ahead via the underground corridors, used by smugglers with only your torch.





Jerwood Gallery

has a vast collection of contemporary art of well-known British artists such as Sickert and Lowry. The gallery also showcases several curated changing shows.





The True Crime Museum

shows the shocking real-life tales of crimes committed and their punishments.





Shipwreck Museum

charts thousands of vessels from Southeast England coast. The museum also features artefacts from Anne, a 17th-century warship from the reign of Charles II and Amsterdam; a Dutch East Indiaman wrecked in 1794.
Shopping
Old Town Hastings has many lovely boutique shops, antiques and unique shops offering a range of homemade crafted gifts and homeware from talented makers from Hastings. The town is small enough to explore on foot, but there is plenty to see and keep you busy for a couple of days.
Attractions
Old Roar Gill
is a nature reserve with rare flowers and animals, where you can enjoy walking alongside waterfalls.
Skatepark
welcomes people from around the country and locals can bring their children to the skating club where they can learn skating from scratch. The park was created by Marc and Richard Moore who converted the old swimming pool on the seafront into BMX and skatepark. The skatepark is becoming one of the best skateparks in the country.
Hastings Castle
was built during the Norman Conquest of Britain. When Willian of Normandy known as Willian, the Conqueror ordered the castle to be built.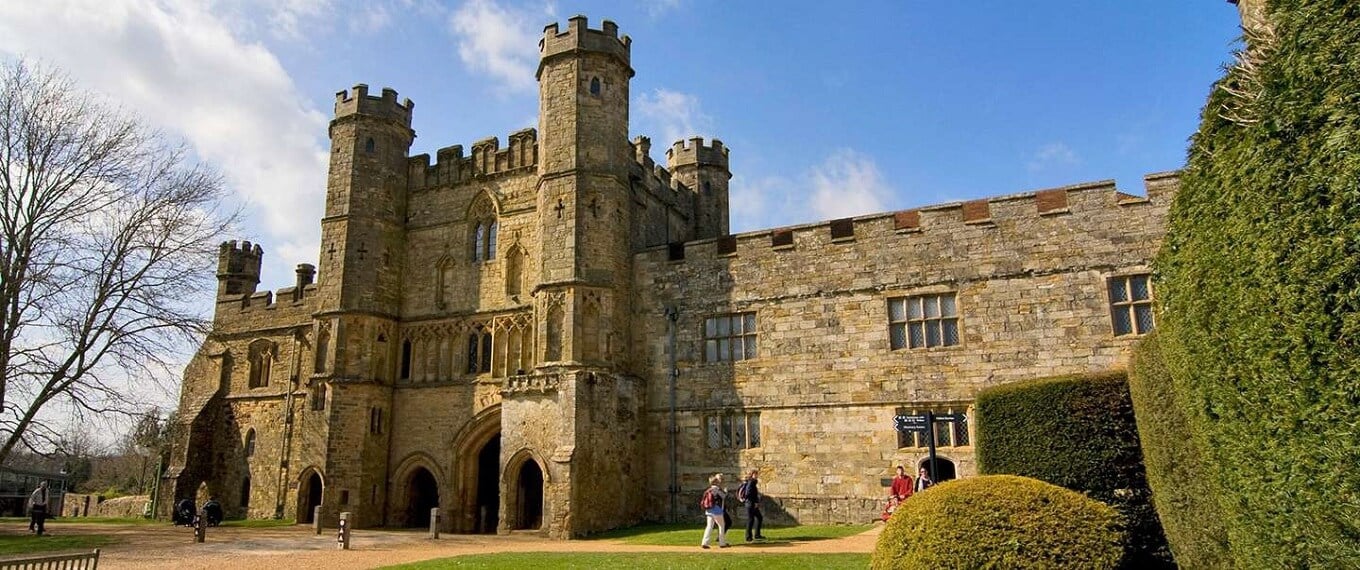 Photo: Hastings Castle, photo credit: © whatsoninhastings.com




Teddy Tinkers

is a small vintage cave of treasures. The shop offers vintage clothing, fancy dresses, antiques, collectable books and much more.





Cliff Railways

is an unusual railway which runs through a tunnel and rattles up and down sandstone cliffs. With the East Hill Lift, you will get to Hastings Country Park, and with the West Hill Lift, you'll get to Hastings Castle and St Clements Caves.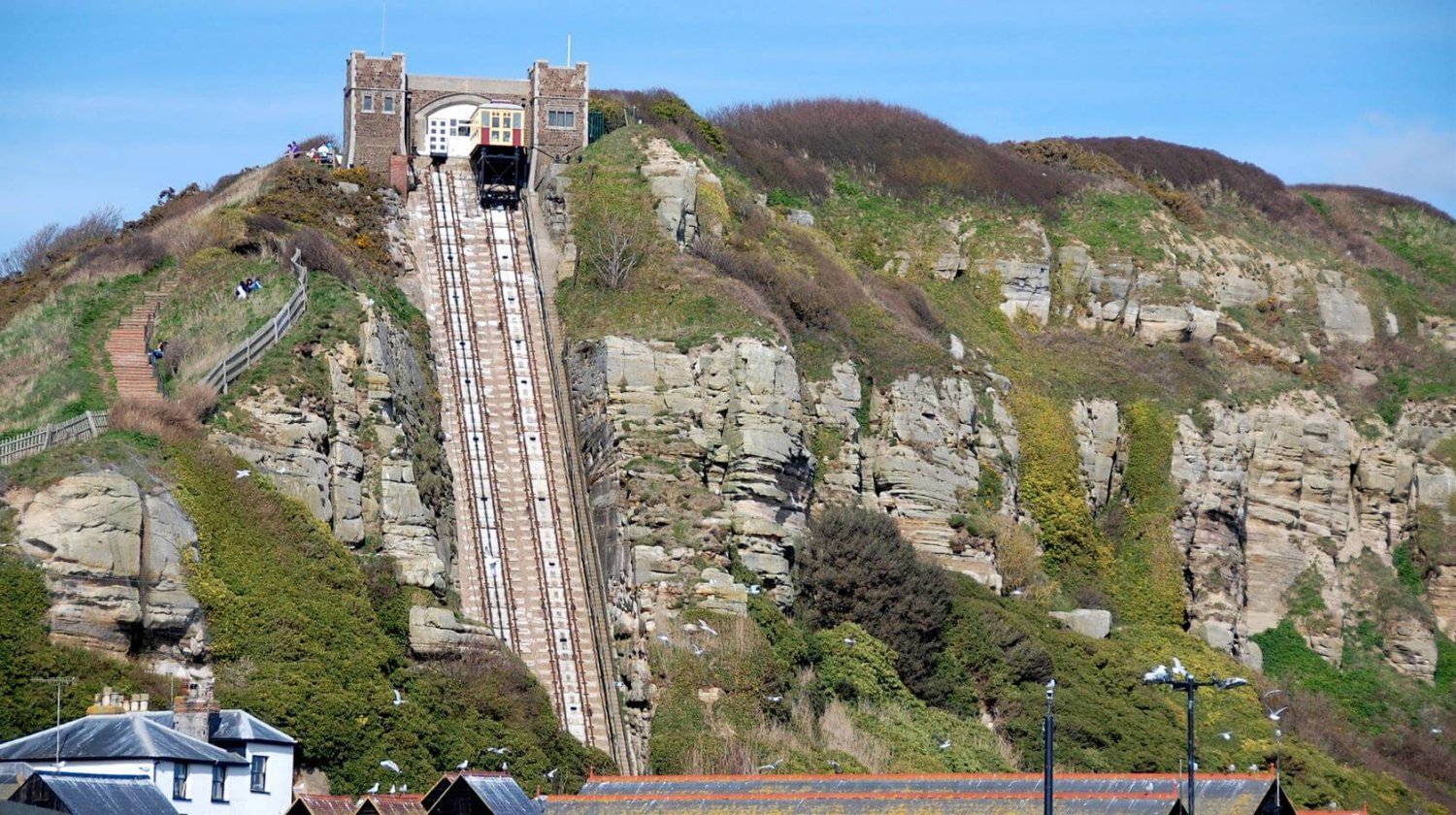 Photo: Cliff Railways, photo credit: © dayoutwiththekids.co.uk




Blue Reef Aquarium

features hundreds of marine creatures, such as seahorses, rays, octopuses, sharks and seahorses. It also has a jungle room with bearded dragons and snakes. There is also an ocean tank with an underwater tunnel where you can see many tropical fishes. You can also come into contact with ray feed, aquarium's reptiles, archerfish feed and octopus talk. The aquarium is an excellent attraction for the whole family.





Hastings Country Park

has 660 acres of ancient woodland, cliffs and heathland. The park is located at the southern point of the High Weald Area of Natural Beauty. During the spring or autumn season, you might see migrating bird species like Pallas's warblers, Sardinian warblers and red-rumped swallows.





Alexandra Park

has an extensive range of trees, an adventure playground, a café and a bandstand for concerts during the warmer season. Robert Marnock designed the park in the 1870s. In the early 2000s was given a multimillion-pound regeneration and since then has become a regular annual winner of the Green Flag Award.





Battle Abbey

is a partial ruin erected on the site of the Battle of Hastings in 1070 by the Normans as atonement for the slaughter in their conquest of England. The battlefield is available to see with an audio guide; you can also watch a film and handle replica weapons at the visitor centre.



Events in Hastings
Hastings is a Music city with a wealth of festivals, venues, musicians and music-related businesses. The town also offers a roadmap to developing the music economy and works together with the local authorities, communities and others to support the music sector.
Blackmarket VIP
is a live music venue and bar in Hastings Old Town. The venue features many popular gigs such as UK Subs, The WitchDoktors, Reflections of House and many more.
White Rock Theatre
hosts some of the best live music and entertainment in East Sussex, including night concerts, musicals and drama. It's located on the Hastings shoreline. The venue can be hired for parties, conferences, meetings and much more.
Where to dine in Hastings
Here is our selection of the best restaurants in Hastings:
La Bella Vista – Italian cuisine

On the Rocks – British cuisine

No. EIGHT Restaurant – Seafood

Remy's Café Kulinarya – Anglo Asian cuisine

Cinnamon Spice – Indian cuisine

Maggie's Fish & Chips – Fish & chips, seafood

Nazar – Mediterranean cuisine
History of Hastings
The name Hastings came from Haesta's people, which is a Danish or Jutish name. Just in 1066, the town Hastings started to become famous. It was after Duke William of Normandy and his men marched to Hastings to tackle Harold. Duke William won this battle and returned to Hastings where he built the first Norman castle and designated Hastings the capital of Sussex.
The next significant period was around the middle of the 18th century when the health benefits of being in the seaside were recognised and appreciated, and the town became more fashionable. Lots of wealthy people settled in the Bourne Valley.
Famous People Born in Hastings
Lots of famous people were born in Hastings, such as actors, actresses, footballers, artists and many more, including:
Kevin Ball – ex-footballer and coach at Sunderland A. F. C.

Shayne Burgess – darts player, known as Bulldog.

Tom Chaplin – lead vocalist of rock band Keane.

Kim Fuller – television, film and radio writer and producer.

Sophia Jex-Blake – feminist and founder of the London School of Medicine for Women.

Thomas Rendle – international chess master.

Malcolm Saville – author of children books Lone Pine.

Barry Upton – musician, songwriter and producer.
Schools in Hastings
Here a few top primary and secondary schools in Hastings rated highly by Ofsted:
Primary Schools
Ark Blacklands Primary Academy

New Horizons School – primary and secondary

Robsack Wood Primary School

Torfield School

All Saints CE Junior School

Ark Little Ridge Primary Academy
Secondary Schools
The Hastings Academy

Saxon Mount School

The St Leonards Academy
Private Schools
Buckswood School

Claremont School
If you would like to read more information about Hastings, you can find it in our

Local News & Articles

.
Featured photo: Hastings, photo credit: © shutterstock.com