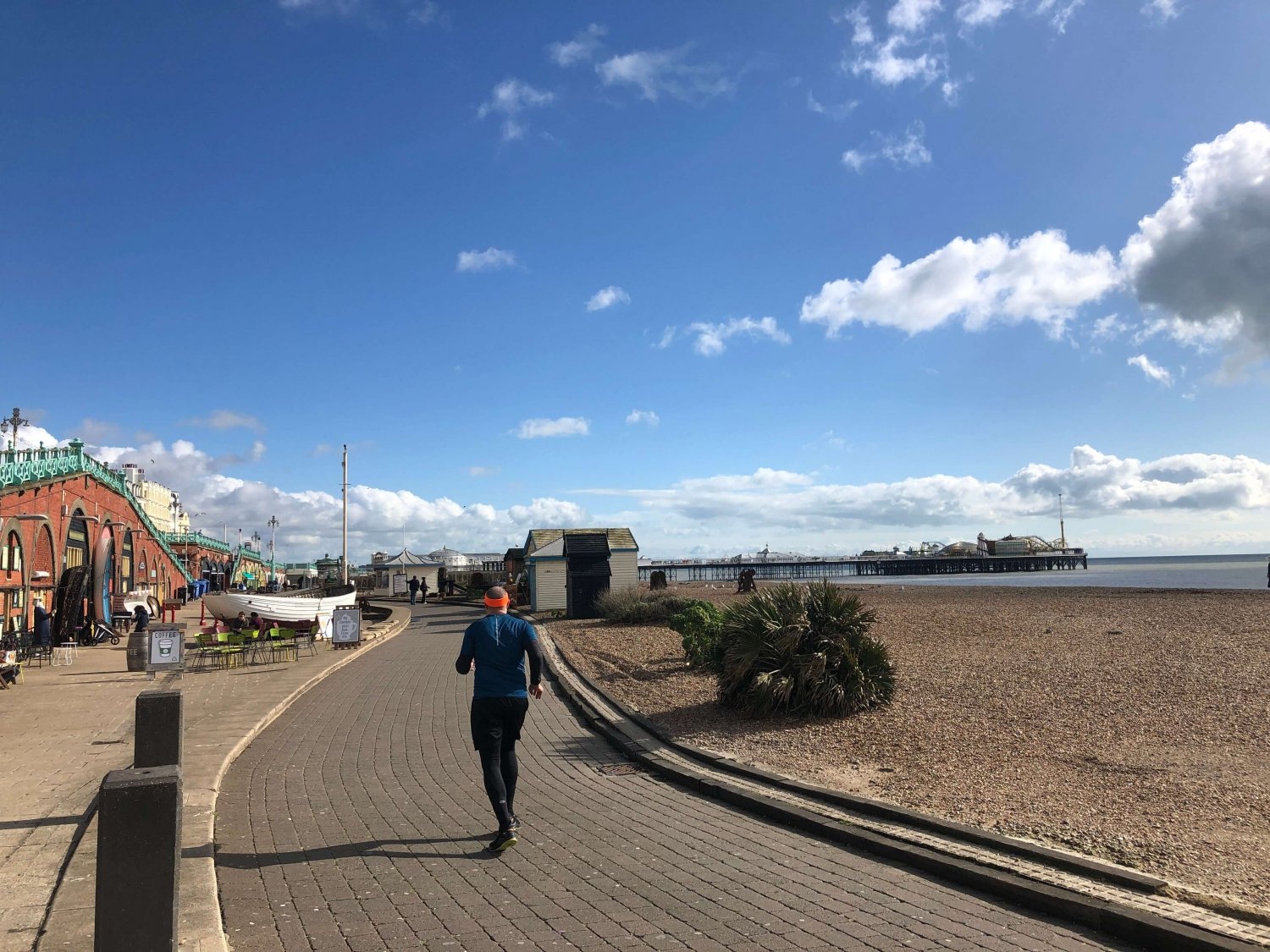 Top Running Routes in Brighton
Adventure Sports
Brighton & Hove has got many beautiful locations ideal for running. Put on a pair of comfortable trainers, create an inspirational Spotify playlist and explore the seaside city in a new view while keeping fit.
Brighton Seafront Promenade to Southdean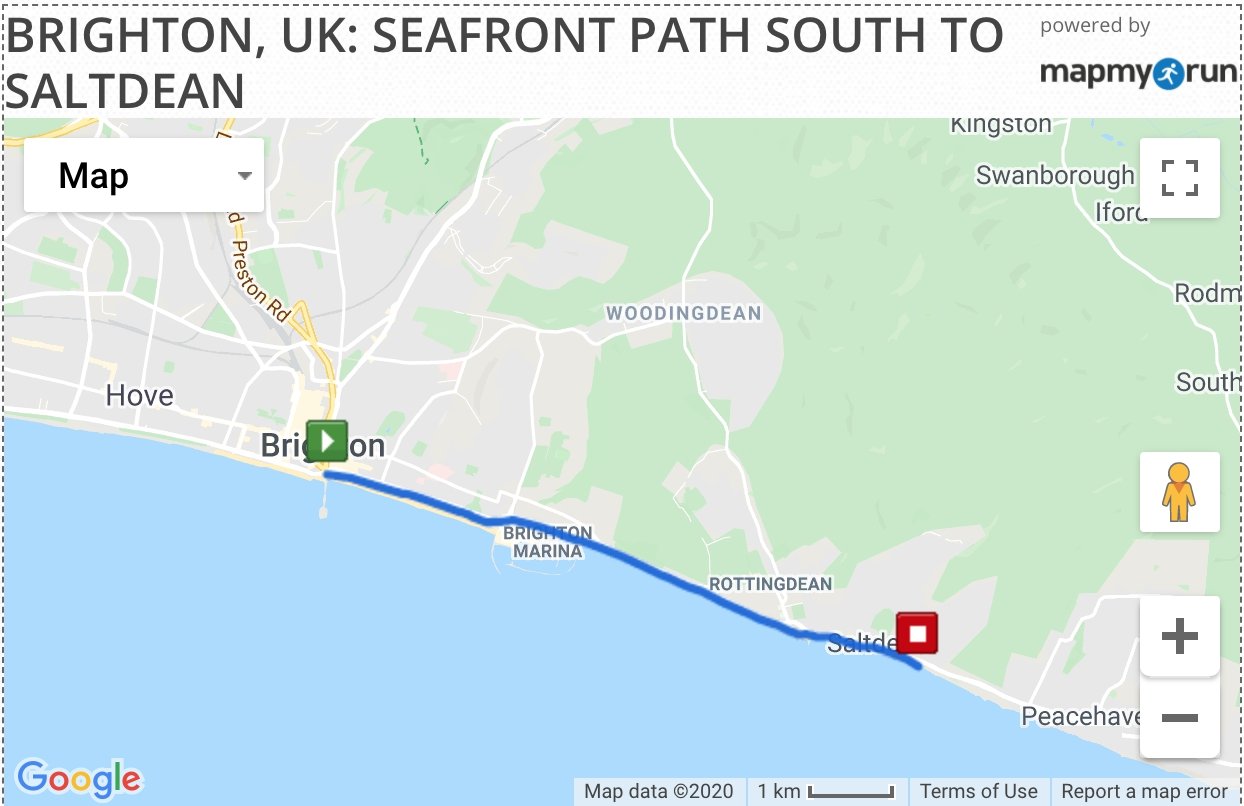 Photo: Brighton Seafront Promenade to Southdean Running Route © mapmyrun.com
Brighton Seafront Promenade is a popular running route, which heads east of Brighton along the Undercliff Walk path. This route has excellent views of the English Channel as the run is underneath white cliffs. It starts from Brighton Pier; the distance is up to 4.75 miles to the end of the path in Saltdean at the Telscombe Cliff Views.
You can also add the one mile out and back ride along scenic Brighton Pier.
Key distances from Brighton Pier in miles:
Brighton Marina – 2 miles
Rottingdean Beach – 3.7 miles
Saltdean Beach – 4.3 miles
Telscombe Cliffs View – 4.75 miles
Brighton Seafront Promenade to Southwick
Photo: Brighton Seafront Promenade to Southwick Running Route © mapmyrun.com
Running route to Southwick includes many magnificent views. The route starts from Brighton Pier and heads west alongside
Brighton Beach
, then reach the Angel of Peace monument and continues via stunning Hove Lawns. The next part is the Kings Esplanade trial, which connects to Western Lawns. You can run here along the paths or the lawn greens to the Hove Lagoon at the western end, then continue the path till you get to Southwick.
Key distances from Brighton Pier in miles:
Hove Lawns – 0.5 miles
Western Lawns – 2 miles
Hove Lagoon – 3 miles
Southwick – 5.73 miles
Brighton Parks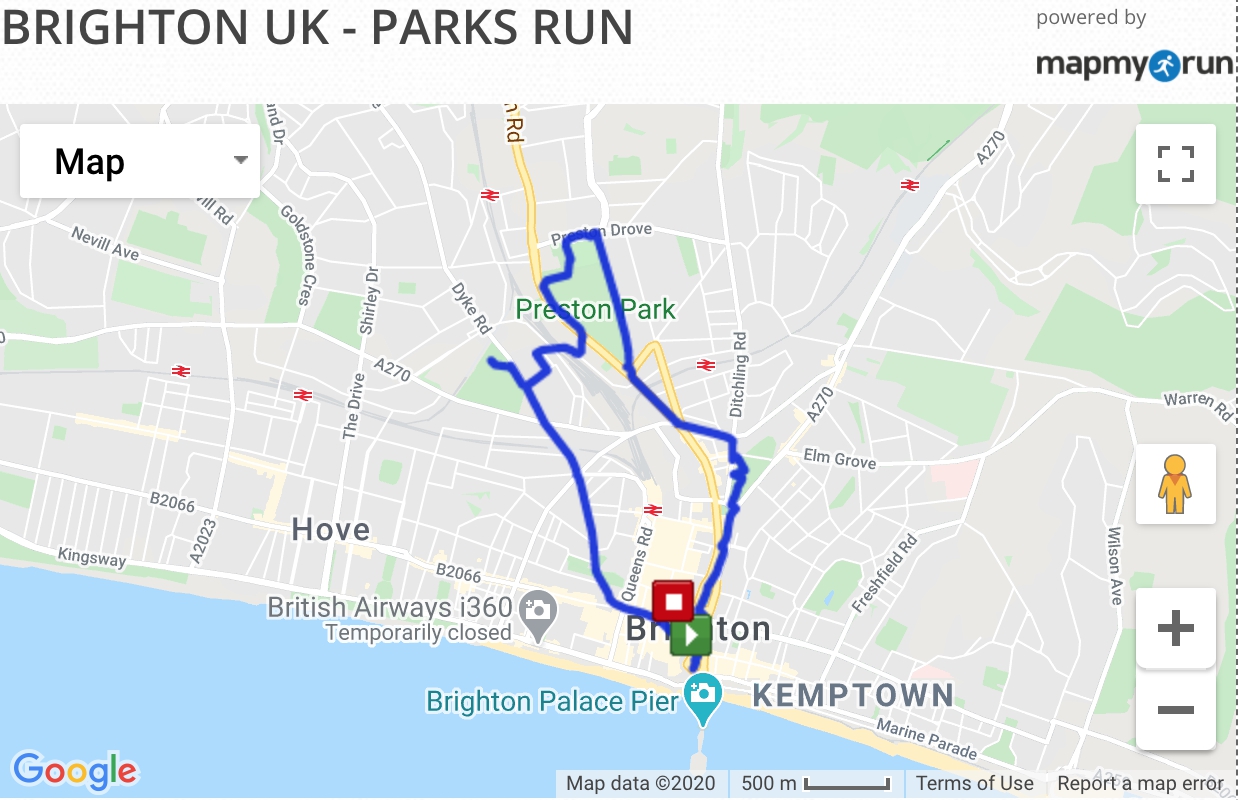 ​Photo: Brighton Parks Running Route © mapmyrun.com
This running route starts in Old Steine Gardens, close to Brighton Pier, where you can enjoy the fountain. From here turn left to Castle Road where you make a loop around the
Royal Pavilion
. Then head north past the Brighton Museum into Victoria Gardens, where you can run through small parks, passing Valley Gardens, Mazda Fountain, St. Peter's Church and the Level Park.
Then turn left to Preston Park, turn left again on the A270 road and right on Preston Road which will lead you to a magnificent Preston Park, which includes fields, paths and a manor house. Exit the Preston Park and continue towards Lovers Lane, heading west on Dyke Road. After that get over to Hove Green, then head south on Dyke Road for return, passing St. Nicholas Church and garden grounds. Then turn left on North Street to the end.
Key distances from Old Steine Gardens in miles:
Victoria Gardens – 0.5 mile
Preston Park – 1.2 mile
Dyke Road – 2.8 miles
North Street – 4.7 miles
Brighton Marina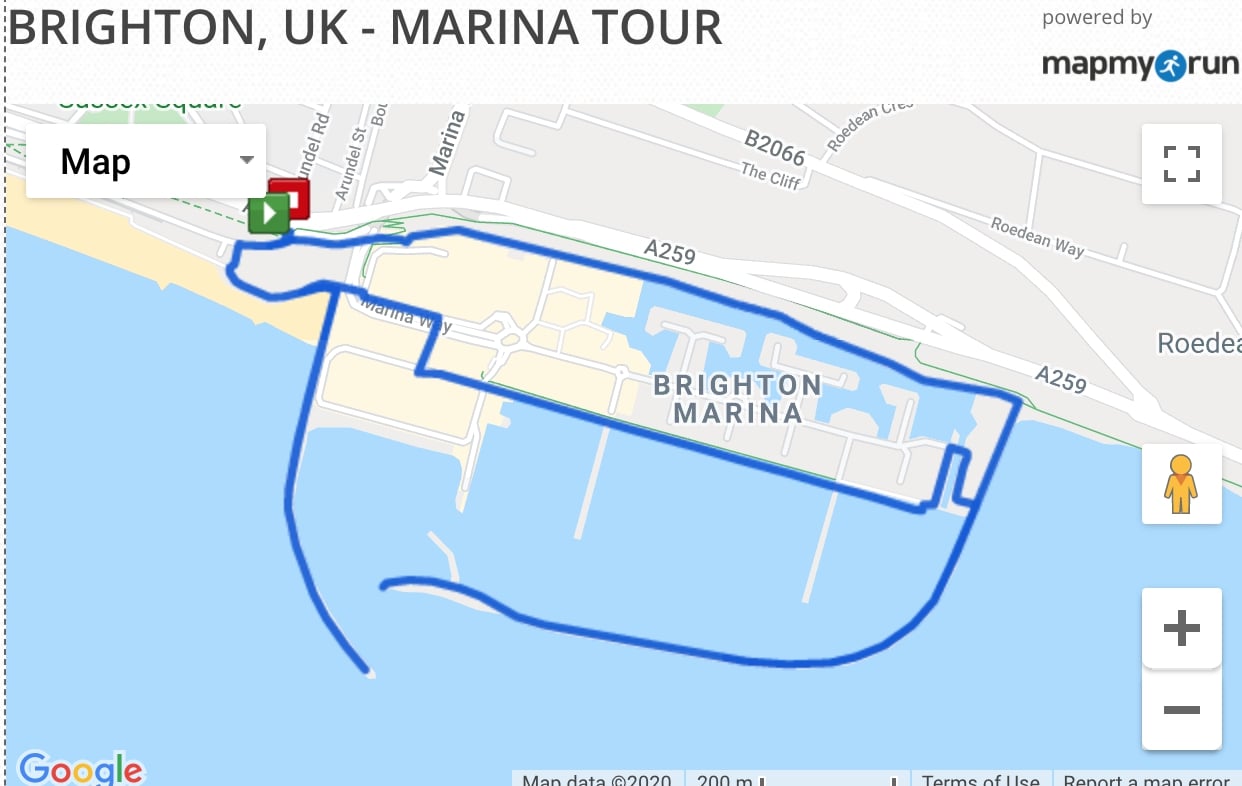 ​Photo: Brighton Marina Running Route © mapmyrun.com
Brighton Marina is only 1.8 miles east of Brighton Pier covering scenic seafront views. The route starts at the Car Park, just west of the Marina at Black Rock Beach, which continues along the Undercliff Walk down the East Arm Pier and back to the Marina. Then around the Marina promenade path just south of The Strand to the Broadwalk and after that back run down to the East Arm pier.
Key distances from the Brighton Marina Car Park in miles:
Undercliff Walk – 0.7 mile
East Arm Pier – 1.5 miles
The Strand – 2.5 miles
Marina Way – 2.8 miles
Back to Marina Car Park – 4 miles
Devil's Park
Devil's Park is the longest, deepest and wildest distance trail in South Down. South Down National Park includes beautiful 12,800-acre of Sussex countryside, which stretches for almost 90 miles to
Eastbourne
. There are many trails to explore with something for every runner. There are no online maps available, but there are many leaflets available.
Stanmer Park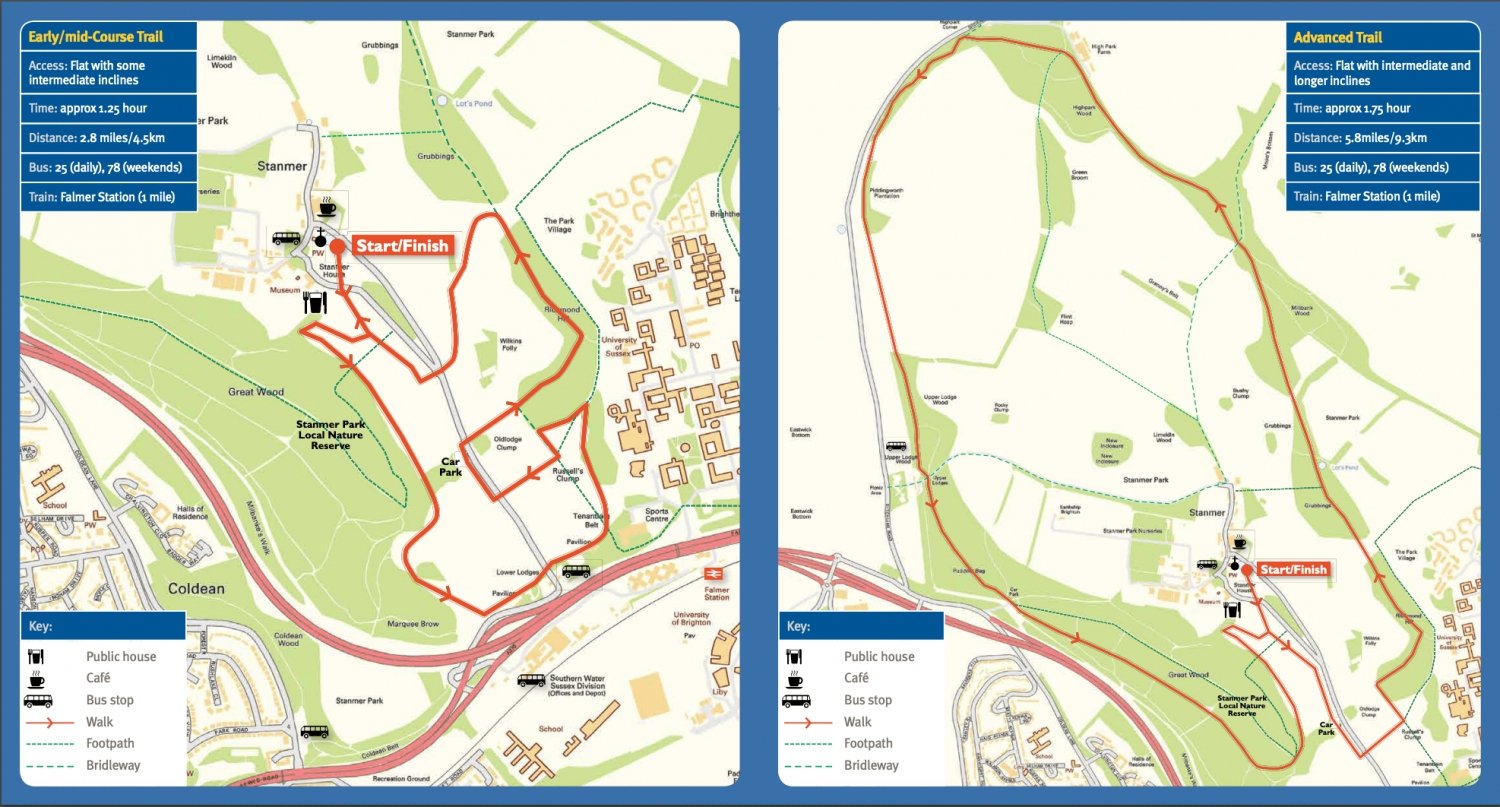 Photo: Stanmer Park Running Routes © mapmyrun.com
Stanmer Park is located four miles northeast of Brighton off the A27. Nordic walking trails are prevalent routes for runners, where you can enjoy stunning woodlands and extensive open lands.
Related Travel Articles